The EEF is lead by Field Marshall Jeremiah Strykker
The Subcommander of this faction is Admiral Nikki of the Draco Constellation
The EEF also has a subfaction known as the Uloh Free Confederacy, which EEF members can join by asking their leader President Ragman.

Give a basic physical description, a pic if you got one of your character, and your background.
Ranks in the military are assigned by the DR Team during your character creation email.
Admin




Posts

: 748


Join date

: 2011-02-19



Greetings,

This is President Ragman of The Uloh Free Confederacy. As some may know, I am originally an Earther from the Planet Refuge. In my youth, i was apprenticed to the necromancers in the Swamp of Galos, and later sent to study with the Uth Nightmare skinners. Upon my "release" from my apprenticeship, i was hired by VLAD for several missions and later convinced them to let me do some research. This led to the creation of Project: Ragdoll and later to my being sent as science officer on a EEF ship to liberate the Uloh system. When the E-strain activated the Galaxy Drive, my ship was trapped on the farside of the wormhole, with me being the last officer on board. Using secret means, we held off the E-strain till we were able to make a peace treaty with them. The terms of the treaty allow E-strain to join the EEF and live peacefully as long as they do not take unwilling Hosts.

normally, i appear to be a middle aged Eather of nondescript appearance. in cambat i wear a suit of armor made from mightmares and agmented with various Body parts acquired from other species



Posts

: 144


Join date

: 2011-02-27


Location

: The Uloh Galaxy Drive

Character sheet
Rank: President of the Uloh Free Confederacy
Army Morale:


(150/150)


Current Research:


"Greetings"....Ick, too formal. Always with formality, but it has no place in battle. As team members of the EEF, we shed blood together...hell, some of us even die together. Why pretend that politeness gets us anywhere?
All the same, EEF Admiral Nikki the Bastard here, reporting in. Anyone who has yet to hear of me apparently doesn't need to know my past, and anyone who has already knows it...or is dead.
That is all.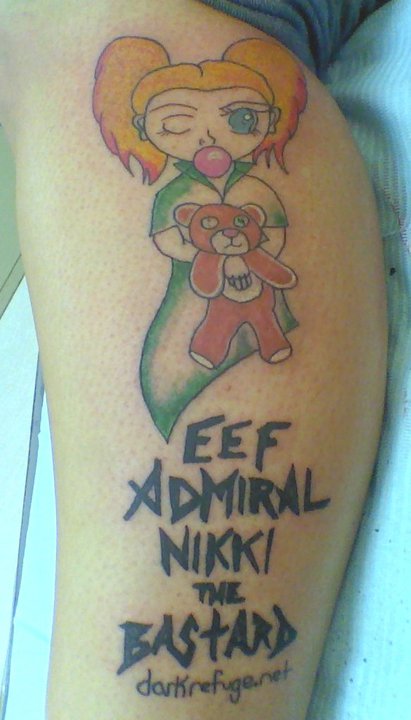 Posts

: 7


Join date

: 2011-02-28

Character sheet
Rank: Admiral of the Draco Constellation
Army Morale:


(100/100)


Current Research:


EEF,

Greetings from the expanse of space. I am Voora tel Ganath, commander of the 5th Irregulars. We are a mercenary unit operating for 4 years nows. Border Wars til here, we have been stomping folks for cash.

Reports are that you are dealing with those Independent Corporations for some wet works. Frankly, going to a group of business folks for such things is kinda like using a sledgehammer to fix a watch. You can do it, but y'all will just get plumb frustrated and want to hurl the hammer.

Now see, I have been approached by those Independents to join up with them... but I see that as a bit of a limit to my resources. Kinda shoe horns me dontcha think? So... I offer my services. Price depends on the job. I'm truly independant.


If you want more loyalty. It costs more. Let me know if you want to deal.

Yours Respectably
Voora Tel Ganath
5th Irregulars



Posts

: 21


Join date

: 2011-03-01


Location

: Some where cruising through the darkness of space.

Character sheet
Rank: Independent
Army Morale:


(100/100)


Current Research:


Many of you my know me from my actions and doings in the border wars and others know me cuz I worked with you and for all of you that don't know me I will give you a lil brake down .....

I'm the founder and leader of the lions of earth, a general in the EEF and the bridge the that joints the EEF and tares and the leader of the taresion military .... I have the appearance of a earther and I usual look the same on and off the battlefield I wear a black EEF uniform with all my ranks on it, a patch with a lion surrounding the earth and a smaller patch of the EEF Symbol .... and as far as my past befor the border wars if you don't know it then well its above your pay grade ......

The one the only general Angeles vulfrum commander of the lions of earth



Posts

: 95


Join date

: 2011-03-07

Character sheet
Rank: General
Army Morale:


(95/100)


Current Research:


(this is not a personal introduction, this is a 3rd-person description of what would be known about Shinefox)

Shinefox Shrell-Fox is the public face (as it were) of VLAD, the Earther Military's informal black-ops spy network on the planet Refuge. He (and VLAD in general) are based in the city of Saragosa, his hometown, which has been comfortably ruled for decades by his uncle, Elected Lord Aeron Din. While he very much looks like he "grew up on a farm" (because he did), Mr. Shrell-Fox is known to be not only familiar with practical agriculture, but is also known to be an accomplished alchemist and herbalist, with a knack for tactical problem-solving and strategy far beyond the stereotypical 'corn-fed farmboy'. Although he is generally mild-mannered, he is a beserker, and has demonstrated many times the dangers of getting on his bad side.

Shinefox Shrell-Fox, VLAD's Civilian Director, shares command of the organization with two more mysterious figures: Mr. McMurphy (Director) and Té Té (Military Director). The three of them came to be in charge after they uncovered and neutralized some world-endangering nefarious plots by the previous VLAD administration.

Shinefox is a large, solid-looking Earther with dirty-blond hair, tan skin, and a youthful face. When dealing with official business, he wears a formal suit (and a nice straw hat). When on mission, he wears a flannel shirt, jeans, heavy boots, and an armored jacket in the style of the Saragosan police force (and a more beat-up-looking straw hat). He has a habit of chewing on grass stalks and sunflower/pumpkin seeds (which he eats whole, hull and all).



Posts

: 1


Join date

: 2011-03-17


Location

: Saragosa, Refuge

Character sheet
Rank: VLAD Trinity
Army Morale:


(100/100)


Current Research:


Hello Sir, Lieutenant K'nelda of the EEF 5th Fleet reporting for duty. I had an excellent leave, thank you for asking.
As you can see I am still maintaining my natural auburn hair. I still don't need lenses and don't wish to change my coffee colored eyes. Yes the mountain climbing on refuge was as good as ever. I enjoyed a chance to refresh my martial arts skills. I do stay in trim shape. Although I am only 4 feet, I am able to handle myself in one on one combat. Where is my silver hammer? I always feel naked without it.
Please allow me to get back into my uniform and get to work. I'd like to return to my flag ship, the Battle Hammer and see that all repairs have been completed and check on the rest of my fleet. I want everything ship shape so we can return to duty promptly and efficiently.
Do you have any orders, sir?




Posts

: 4


Join date

: 2011-06-03

Character sheet
Rank: Lieutenant K'nelda of the EEF Fifth Fleet
Army Morale:


(100/100)


Current Research:


EEF Extended personnel file form 10-41-A (Long Form)

Name: John Winters
Rank: Specialist
Unit Assigned: EEF Kraken Div.

Soldier's Bio (to be filed by medical officer)
Age: 27
Race: Earther, Caucasian
Height: 6'1''
Weight: 183 lbs
Hair/Eyes: Brown/Blue
Blood Type: O+
Leyas Ability Level: Adept

Security Dossier (to be filed by intelligence officer)
Security Clearance level: Secret
EEF Citizen: Yes
Current Residence: Refuge, Planet side
Discipline: Good standing
Appearance notes: Shaved head, Tattoo Upper left arm (EEF Kraken emblem)

Soldier's basic info (to be filed by personnel officer)
Completed Standard training:
EEF Basic training, EEF Naval school, EEF Naval special warfare school, EEF Kraken school, EEF Leadership school, EEF Advanced leadership school, Basic Layas Course (BLC).
Completed optional training:
EEF Field medical course, Advanced Firearms course, Advanced Firearms II, Field Survival Course (FSC), Special Warfare school, Advanced infantry trials, Basic Layas Course II (BCSII).
Past Combat Actions:
-Classified-
Current Assignment:
Heading active Kraken operations
Current Command:
100 Manta class fighters
2 Dusk class destroyers (the EEF Bucklew and EEF Burrfish)



Posts

: 2


Join date

: 2011-07-31


Location

: Greenville, NY

Character sheet
Rank: EEF Kraken Spec. Ops. Specialist
Army Morale:


(100/100)


Current Research:




Similar topics
---
Permissions in this forum:
You
cannot
reply to topics in this forum